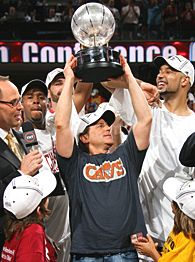 Dan Gilbert is my employer, yes. He is the person who is ultimately responsible for my paycheck being auto-deposited into my bank account every other week. But that is not the reason why I think D.G. is the most important person to come into the Cleveland scene since
Lebron
James in 2003.
Don't know why? Don't know who Dan Gilbert is?
Dan Gilbert is the founder and owner of Quicken Loans Inc. A 20 billion dollar residential mortgage company with over 3,500 employees, and one of the only substantial mortgage companies that WASN'T writing bad loans for the past 10 years. By the way, it has been voted one of the top 100 best places to work 6 years in a row by credited sources such as Fortune Magazine.
Here is the reason why I respect and admire what he has done for the
magnificant
city of Cleveland:
1.) He is the principle owner and operator of the Cleveland Cavaliers and Quicken Loans Arena. Cleveland is a sports town. When we go through hard times people turn to sports so that the struggles of day to day life can be ignored if just for a few hours. The Indians stink. The Browns stink. But Dan has turned a dying basketball franchise into one of the most influential sports teams in the world. The Cavaliers have the best player in the world, they play the league maximum of 33 games on national TV, they have influence overseas so much so that 26 other countries aired our games this season. We have Quicken Loans Arena, one of the best venues in all of sports, a newly built 30 million dollar practice facility and an owner that is willing to spend even more money to win an NBA title. Browns and Indians, what do you have to say? Think it is a coincidence the Cavaliers are so successful?
Lebron
James, yes, is a huge part of this, but without Dan Gilbert the Cavaliers would undoubtedly have already lost the King. Think of the money that floods downtown Cleveland for people eating, drinking, parking, buying hotel rooms and buying merchandise simply to support the Cavaliers. It is difficult to even put into perspective the economic affect the Cavaliers have on the city. Especially during these trying times. Think people are doing the same for the Browns or Indians? Think again. Just ask some of my local hotel manager clients. They will tell you all you need to know. All the Indians and Browns need to do is take a drive to the corner of Ontario and Huron. It is pretty clear what they are doing wrong and what the Cavaliers organization is doing right.
2.) He brought over 300 jobs to Cleveland by putting one of his Quicken Loans, Inc. call centers right downtown. 300 jobs means 300 more people eating, drinking and living in Cleveland. Enough said.
3.) He is the owner and operator of our newest sports franchise, the Lake Erie Monsters. An American Hockey League club. Guess what. More jobs, more people coming downtown to eat, park and play. This franchise has allowed me and many others an opportunity to build a career in the industry we are passionate about and allows me to do it in a city I love. So what have we accomplished? 9
th
in the league in attendance out of 29 teams in just two short years. We've had the highest attended game in the entire
AHL
in both of our first two seasons. We have the largest staff and the nicest facilities of any team in the
AHL
. Again, not a coincidence. Leadership breeds success, attitude reflects leadership. Dan Gilbert is a strong leader. The people that work for him carry those same qualities.
4.) Like it or not. Dan Gilbert is a strong proponent of bringing a casino to downtown Cleveland. "More than 34,000 new Ohio jobs and $11 billion in economic impact would be generated during construction and the first five years of operations if the ballot issue authorizing casinos in Ohio's four largest cities is approved by voters in November," a new study from the University of Cincinnati shows. Cleveland needs a break. It needs something big to
resurrect
a city run by poor politics for decades. It needs something different. Think not? If you don't know, take a walk down East 9
th
street or the Flats. Empty skyscrapers, homeless and countless other deserted restaurants and buildings will tell you otherwise. If this happens it will help this city, and Dan Gilbert will have been a huge part of making it happen.
So cheers to a man who has pride in being from the Midwest and truly wants to make a difference in cities like Detroit and Cleveland. Cities often ignored and crucified in the national media.
Lastly - Here is a link to Dan's newest company that was just announced today. He is a dynamic businessman always looking for the next opportunity. This newest endeavor is a perfect example. Please feel free to try it out as we have been asked to post this on any personal blogs,
Facebook
etc. This is currently in a private beta test site so it is not live to the public. You can leave any feedback on improvements or errors you spot on the site itself. Feel free to try it out.
Here is a short description of the company just sent to us by Dan this morning. He can articulate better than me:

StyleCaster
is a new website that will change the way you look at fashion. It's your very own 24/7 personal shopper that gives you personalized style tips, the low-down on the latest fashion trends, access to a large catalog of cool clothes and the ability to buy your favorite items with a few clicks of your mouse.
The best part?
StyleCaster
doesn
't tell you what's fashionable based on the latest runway style or celebrity endorsement, it actually learns from YOU and serves up outfit ideas, product suggestions and premium content from the top fashion editors and stylists based on YOUR tastes.
jab